On 25 April 2012 the United Kingdom's Royal Society issued a report entitled People and Plant that recommends that rich countries cut consumption and developing countries lower birth rates. It concludes that unless this happens quickly, there will be "a downward spiral of economic and environmental ills." The report was chaired by Nobel Prize winner, biologist Sir John Sulston.

According to this report, it is not just the growth in population that it is the problem. It is the inequality in their income and prospects. Jules Pretty, one of the 22 co-authors on the report notes, we must bring the 1.3 billion people living on less than a $1.25 a day out of absolute poverty. It's critical to slow population growth in those countries which cannot keep up with services." An example of this is Niger, which faces a future "in which population increase outstrips the production of food and other necessities of life." Another author, Ekliya Zulu, president of the Union for African Population studies noted that by 2050, the population of Africa may reach 5.3 billion.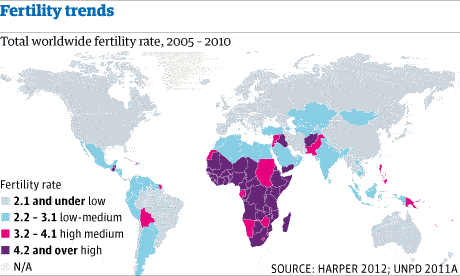 For more see: Vidal, John. "World needs to stabilise population and cut consumption, says Royal Society," The Guardian, 25 April 2012.

People and the planet, Royal Society, 2012.