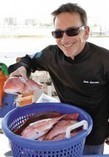 1 August 2013, LifeStyle Inquirer, Reggie Aspiras -- ""He spends the rest of his time traveling to give talks on the importance of ocean conservation and the dangers of over-fishing.
Chef Rick Moonen's credentials are stellar, the highlights of his career many. He graduated top of the class at the Culinary Institute of America, New York. He was given three stars by
The New York Times
for his restaurants Oceana, Molyvos (a Greek fish house) and New York City's rm.
Moonen was named "Seafood Champion" by the Seafood Choices Alliance, honored at the International Chefs Conference with The Community Award presented by StarChefs.com, and hailed Chef of the Year by the Monterey Bay Aquarium for his tireless efforts to promote sustainability. ... "